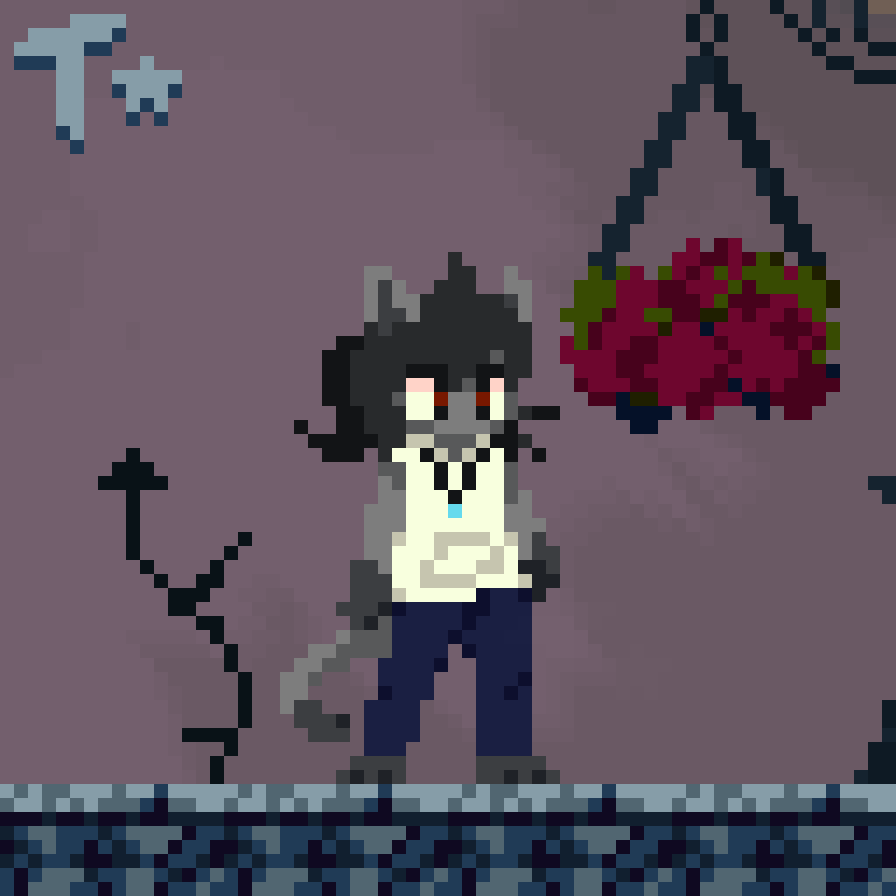 Tamarin K.
(they/them or she/her)
Pixel Artist
Junior Game Dev
Chiptune Composer
---
---
Art Gallery
---
Music Covers
---
Game Development
---

Terms of Service
These terms can be subjected to change at any time.
---
General
Please provide as many references as you can, even crudely drawn ones on MS Paint. Anything helps!

WIPs can be provided when requested, and would always be provided if it is an animation.

I usually stream my commission progress on my Twitch, you may ask for changes easier that way!

Please be patient, as my turnover usually varies from a week to two months. Don't be afraid to approach me about the commission's progress!

Be nice, and be civil! I have feelings too, and I have the right to reject your commission if you try to have beef with me.

Please respect my pronouns, and do not refer to me by my assigned name.
---
Payment
Higher complexities usually result in higher costs, especially for animation.

Payments is done, upfront, in full on Paypal, in USD.

If there are complications, I can only provide a full refund if: I have not started on your commission, or I am unable to complete your commission for whatever reason.

Refunds are not allowed for completed commissions.
---
Usage
Please do not remove, modify or change any signatures or watermarks from the commissions. If there are minor edits to be made, please contact me within a month.

As the artist of the commission, I am allowed to use your commissioned art in other mediums, such as portfolios, showcases, posts, etc. Any original design, such as OCs, will remain rightfully yours.

As the commissioner, you may use the art for personal use, posts, etc. However, please provide credit whenever possible.

These commissions cannot be used commercially, please discuss this with me before commissioning me in the first place.
---
Rules
I'm Cool With
OC Content

Furry/Anthro

Human

Pairings (consent required if it's characters you do not own)

OCs from Franchises (eg. Pokemon, Digimon)

Fan Art
No No Bro
NSFW Stuff (yet)

Extremely complicated designs, like, extremely

Hateful/Offensive Content

Detailed Gore (cuts/minor bruises OK)

Anything I'm uncomfortable with (negotiable)
---
Got All That?
Then let's do this!
---

Commissions
---
Please read the Terms of Service
before proceeding!
---
River City Reserves
Base $40
Your character if they were in River City Girls!

The sprite is approx. 48×72, the image 100×100

No animation, sorry!

BG ripped from game itself
---
Accursed Saviours
Starts at $30
+$35 for Simple/Idle Animations
+$65 for Complex Animations
Your character if they were in Momodora RUtM!

The sprite is approx. 20×40, the image 64×64

Animation OK!

BG ripped from game itself
---
Character Cards
Starts at $40
+$65 for Simple/Idle Animations
+$130 for Complex Animations
Your character with their stats and power levels!

The sprite is approx. 28×52, the image 120×80

Animation OK!

Simple coloured BG with character info (eg. names, attack power, character stats, etc.)
---
Others
$???
Anything you want that's not here? Contact me!

Price can vary depending on complexity and effort

Simple animation OK!

I can try for backgrounds, but nothing too complex
---